HIGHER ELEVATIONS: STORIES FROM THE WEST. A "WRITERS' FORUM" ANTHOLOGY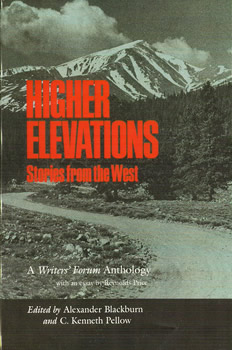 Higher Elevations: Stories from the West is a rich and varied anthology of fiction from Writers' Forum. As the subtitle promises, it is regional, but these are not all stories from the West. The anthology has both variety and cohesiveness and its high quality testifies to the almost inexplicable phenomenon of the flourishing of the short story in a market with few outlets.--
Ohio Universiy Press Excerpt.
"For 20 years the literary annual Writers' Forum has been devoted to publishing the creative work of both new and established poets and fiction writers, particularly from the
West. For this splendid volume the editors have collected some of the best work that has appeared in its pages…" -- The Bloomsbury Review
"When Alexander Blackburn moved to Colorado Springs twenty years ago, he found the area rich in writing but poor in publishing. So he created Writers' Forum…The journal has earned a significant following in national literary circles for the voice it has given to western writers, especially those whose work moves beyond the boundaries of the stereotypical western genre. Writers' Forum has received more than 30,000 manuscript submissions and published more than 180 fiction writers and 350 poets, many of whom have gone on to achieve literary prominence." -- Springs Magazine
"Writers' Forum, the literary magazine Blackburn started in 1974, is now ranked first among the non-paying university-sponsored literary magazines by Writers's Digest… By reading widely in the anthology, the reader gets a picture of writing in the West over the last two decades and an appreciation for the Writers' Forum." -- Ceil Malek.
"Higher Elevations is one of those marvelous books that comes along so rarely that its appearance is a cause for celebration, its existence a source of wonder. It's an impressive sampling of the contemporary literature of the Trans-Mississippi West. Here together are twenty works by some of the most esteemed authors writing today, including Robert Olen Butler, Charles Baxter, Ron Carlson, Craig Lesley, Susan Lowell, Rafael Zepeda and Gladys Swan. From Texas are included works by Miles Wilson, Peter LaSalle and Pulitzer Prize nominee Clay Reynolds…" -- Paul Scott Malone, Concho River Review