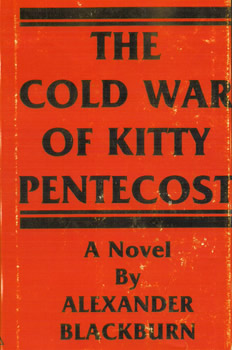 Summary
Kitty Pentecost traces through the lives of three generations of white and black families the tragic permutations of race fear until the emergence of a New South. It is epic in scope.
After World War Two a former Army Air Corps pilot returns to teach at a university in a Southern city. Before he was sent overseas, he has met and fallen pasionately in love with Kitty Pentecost who seemed inexplicably to have rejected him all of a sudden. Gradually Max Stebbins comes to realize that Kitty's fate had always been occluded by her family's history of violence, deceit, and, above all, race-fear.
Indeed the city of Poe's Hill stands in for the United States itself--a world where relationships are frozen by the ideology of individualism and a heritage of racism. In the end, Max together with persons of a new generation of the 1960's is liberated literally and psychologically from a dystopian tragedy which has threatened to erode American society at the roots.

"Blackburn's first novel explores the effects of psychic violence upon the individual members of society…The use of multiple restricted points of view emphasizes the theme that the individual exists in isolation, which fosters the flourishing of evil in the form of lies, violence, and oppression. The revelation of the truth is necessary to free people from their loneliness… Throughout this complex novel, Blackburn creates vivid and sharply delineated characters whose dialogue illustrates his many years of 'listening' in the South." -- Craig Lesley, Dictionary of Literary Biography Yearbook 1985. Prize-winning novelist from Portland and editor of Penguin anthologies of Western and Native American stories
"There is in it an extreme and genuine romantic sensibility that is almost entirely missing in other contemporary writing. And Cold War reminds me – sadly – of how much we are missing now. There is in it discernibly the influence of Faullkner and even of Wolfe, but these voices are quite amiably absorbed. This is a tough, sweet, and classy book." – Fred Chappell
"Alexander Blackburn's first novel should be required reading. Although his cold war is more personal than political, it is nonetheless as dangerous as the global one, and it provides sharp insights into the personalities that thrive on frozen relationships… Blackburn divulges his plot slowly, and there are no gratuitous actions. There are no unimportant characters; each figures prominently in Blackburn's tangle of misunderstandings. Every character hides his own piece of the puzzle until its revelation becomes necessary. Consequently, The Cold War of Kitty Pentecost is as much a mystery as it is a gripping domestic drama." -- Jerry Bradley, Editor, New Mexico Humanities Review
" In many ways the prose itself was one of the book's subjects, and it invites favorable comparison with some of the works whose echoes (in technique as well as in prose) one can detect -- Lie Down in Darkness, say, and Absalom, Absalom!" --Geoffrey Clark, Professor in Creative Writing, Rhode Island College "
The writing is brilliant, both in descriptions and intellectual analysis, with incisive imagery." -- Professor G.R. Wilson Knight, the Shakespearean scholar
"In fact it's a large novel, large in style and large in scope, and the illusion of size is only due to the small size of the print. No sooner is one into the book even a little way than one realizes that the novel is large in intention. Certainly, The Cold War of Kitty Pentecost represents a bold and courageous attempt to go beyond the bounds of traditional narration; the only writer who has attempted this is Joyce... The book is actually daring, and whatever it may sacrifice in simplicity it gains in richness of effect."--William Davey, novelist
"More than one reading is essential to capture as far as possible the full rich meaning of great modern fiction… [the] prose has rhythm, cadence, music, sonority, condensed allusiveness as excellent prose has generally had through the years. I don't mean that it's poetic prose, but it has many priceless qualities that enable it to be more expressive in less space than what mostly passes for prose these days." -- Maurice Browning Cramer, Robert Browning authority, Professor of English, University of Chicago
"I think what amazes me most about your novel is the risks it takes -- risks at least from my perspective -- which is what makes it a hell of a book. That shifting point of view -- you do bring it off. The people aren't just variations on a single personality, and they don't all melt together, and the range of voice and mind is impressive… Your women characters are awfully good -- i.e., successful as literary creations – and confirm my belief that it's nonsense to claim male writers can't do female characters and the other way around. ( Tell that to Henry James and George Eliot). Maybe best of all, you produce intelligent, interesting people of both sexes ( as well as those who aren't so intelligent)." -- Clark Brown, novelist, story writer, Professor in Creative Writing, California State University, Chico
"The writing is solid and the tale is rather bleak and gothic, but it's crafted at a level higher than most first novels and makes for quite propelling reading." -- Charles Sermon, The Columbia State
"A tale of war and peace, of incest and miscegenation, of racial injustice and unwarranted governmental surveillance, of the problems and bickering of academia, and of the starcrossed love of Kitty Pentecost and Max Stebbins. Though a bit over-cerebral at times, the book has a gripping plot and satisfying characters." -- L. W. Griffin, Library Journal
"The book is, simply, about the South, about America, about life as it is lived day to day, about people facing the world as it comes at them, or they at it. In the vein of Faulkner, Flannery O'Connor, Styron, Woolf, Ellison, the language is at times poetic, and the author takes chances, thereby proving to be one of the more creatively innovative works in some time." -- Mark Burski, Currents, Chinook Bookstore