MEETING THE PROFESSOR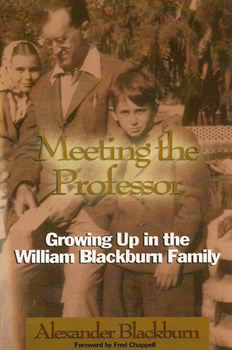 Summary
Meeting The Professor: Growing Up In The William Blackburn Family is the autobiography of novelist, essayist, editor, and academician Alexander Blackburn (Professor Emeritus of English, University of Colorado at Colorado Springs). Meeting The Professor provides a kind of dual portrait of Alexander and his father William Blackburn (a legendary creative-writing professor at Duke University and mentor to such authors as Reynolds Price, William Styron, Anne Tyler, and Fred Chappell). Born in Iran to missionary parents, William Blackburn became a Rhodes Scholar at Oxford and earned a Ph.D. from Yale. He was a brooding, taciturn and ultimately unknowable man who died blind and speechless at age 73, with one of his most beloved students, Reynolds Price, staying at the bedside night after night playing Mozart for him. Alexander Blackburn would follow the literary life, becoming a teacher of writing like his illustrious father, as well as maturing into a novelist. Meeting The Professor is a compellingly written and inherently fascinating memoir.--Midwest Book Review on January 11, 2005
Comments

"Rare, indeed is the father in American literature. Rare, too, the world of academia that escapes satire. And rarer, yet, the humble treatment of aristocrats. Here in this one splendid book we have treatment of all three done with great tact and intelligence. Alexander Blackburn was born into the aristocracy of wealth on his mother's side and into the aristocracy of intellect on his father's. His father, the celebrated professor of writing at Duke University, had brilliant professor-son relationships with such students as William Styron, Reynolds Price, Fred Chappell, Mac Hyman, and Guy Davenport. Yet it is his own, Alex, who tells with love the story of his father born the son of missionaries on a dirt, though richly carpeted, floor in Iran and who died 73 years later in Duke Hospital, blind and speechless, with Reynolds Price sitting up night after night playing Mozart for him. Between these two dramatic scenes, Alexander Blackburn sits often on the sidelines, yearning for recognition, and finally telling, herewith, his own story and his father's and most importantly the almost universal story, the tentative and painfully shy love that exists between father and son." Max Steele, Harper Award winning novelist and a founding editor of The Paris Review.
"William Blackburn's class in Literary Composition at Duke University (from the early 1930s to the late 1960s) was charmingly unstructured and wonderfully successful in the number of distinguished writers who emerged from it. In a finely textured book that manages to be a family history and an autobiography, Alexander Blackburn has written a warmly affectionate and insightful life of his father, whose complexities, emotional turmoil, and old-fashioned sense of honor need, as they have gotten, the hand of a novelist". Guy Davenport, recently Book Editor of Harper's.
"This fascinating family memoir by the son of the legendary creative writing teacher William Blackburn is a book we have needed. Alexander Blackburn – himself a fine novelist and a teacher of creative writing – gives us for the first time a human, nuanced portrait of the Duke University professor. Certain to be treasured by the generations of Duke students whose lives were lit by Blackburn's life, this volume will also be of interest to readers in contemporary American literature and in the paradox of family relationships. While offering a compassionate view of his often difficult, Lear-like father and his parents' unhappy marriage, the younger Blackburn reveals his struggles to become a writer in the context of the family legacy. The result is an illuminating, richly layered account of two professors well worth meeting." Angela Davis-Gardner, novelist and Professor Emeritus of English/Creative Writing, N. C. State University.
"…When you wrote a story, no matter how naïve or clumsy, he made you feel that you have contributed to that great conversation... He taught pride and humility all at once. I know of no other teacher who can do it. He was liberal with C's and D's and would deliver the fatal F when he thought it was particularly well deserved. When I described his grading procedure to one of my contemporary colleagues…, she observed, 'These days he would probably be sued.' I have tried and failed to imagine the student who might bring legal proceedings against Dr. Blackburn." Fred Chappell
…We have been very closely involved with him because that was part of his genius as a teacher-- his ability to be a friend in the best sense of the world… He took students seriously as human beings…. He dealt with students as though they were important people whom he respected because they had something that he honored…He was measured in his praise and ungushing about it, but you knew that you could believe him…I've known some very great teachers at Duke, Harvard and Oxford but I have never known another teacher like him in my life." Reynolds Price.
He possessed that subtle, ineffable, magnetically appealing quality-- a kind of invisible rapture-- which caused students to respond with like rapture to the fresh and wondrous new world he was trying to reveal to them… He was the most profoundly conscientious of teachers-- his comments on students' themes and stories were often remarkable essays in themselves. This matter of caring, and very deeply, was of course one of the secrets of his excellence… He was unquestionably a glorious teacher. Populate a whole country and its institutions with but a handful of Blackburns, and you will certainly have great institutions of learning and perhaps a great country." William Styron.
"It is in his most recent work, though, that Blackburn's wider vision and deeper philosophy is best revealed. The son of a celebrated man of letters, Alexander Blackburn might have had every reason to see himself as the inheritor of both a name and a position that would associate him with famous writers, critics and artists of another region. In a sense, it would have been extremely comfortable for him to have exploited his contacts and his father's associations to his own advantage. But in this autobiographical examination of a personal relationship with literature, with America, Blackburn reveals a constant hunger to know what else there was "out there", beyond the region of the Carolinas, beyond the ivy-covered institutions that educated him, beyond the horizons that so often limit other writers and make them truly "minor" in their vision and their work. Meeting the Professor is one of the most astounding autobiographies I've ever read. Although tender and sometimes even sweet, it also exposes the heat of the southern forge that would produce the determined westerner that Alexander Blackburn became. Through that galvanizing process, Blackburn developed a national vision, worldview. His life, in short, has demonstrated the vital importance of tying regional identity with universal understanding as a method of exploring the intricacies of the human condition." Clay Reynolds.
"...Alex Blackburn's family biography, of which his own life as a teacher and writer are a large part, provides answers that are profoundly important to teaching in a university, a school, a business, or a family... The example of William Blackburn, his family, and his world does us the very relevant service of defining the kind of teaching that can never be replaced by book or computer. His praise was not only better than gold to his students, but for the profession of teaching his legacy is the untarnished gold standard. Wallace Kaufman. Duke Magazine 91:1 (Jan/Feb.2005), 52.