THE INTERIOR COUNTRY: STORIES OF THE MODERN WEST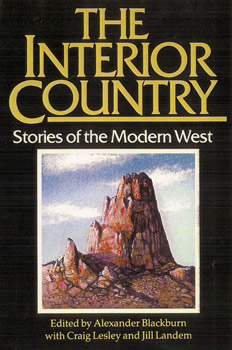 Blackburn's purpose is not merely to anthologize the modern Western experience but to redirect our notion of it. Writers such as Frank Waters, Jean Stafford, Raymond Carver, and Wallace Stegner challenge us to question the limitations of the traditional romantic myths, dominated by outlaws and heroes determined to conquer the wilderness. Through Blackburn's careful selection, organization, and commentary, we are invited to embrace wider themes, the most important being the delicately crucial balance between nature's interior country — the Wild West converted to something more real — and the internal landscape of the human soul.
In order to maintain a sense of the West updated, all of the sixteen short stories and three novel excerpts have been chosen from the last four decades, most having been written since the late 1960s. The Interior Country demonstrates the unique focus of modern Western literature upon the inner nuances of human experience rather than upon the traditional regional "local color," Eastern American "social sphere," or European "manners." The serious Western writer turns inward to reflect upon the West's magnificent yet tragic and brutal history, thus establishing a personal connection to a land whose beauty and power is being threatened, not by gunslingers and Indians, but by weapons testing, overdevelopment, and exploitation. --Publishers back cover
"Your Introduction is the best essay on the American West I've ever read." – FrankWaters.
"I like the introduction , which corroborates some notions I have held for a long time. Let's hope your book will persuade at least a few readers that not all western writing is Shaeffer or L'Amour. This is a really good, various, rich collection. I'll treasure it, quote it, and plug it." – Wallace Stegner
"The book is beautiful, and the introductory essay brilliant. I am sure it will be the kind of essay we all return to over the years. And the book should be the anthology on western literature for many years to come." -- Rudolfo A. Anaya, author of Bless Me, Ultima and other Chicano classics
"A substantial anthology which should interest a general reader and be useful for courses in western American literature or -- given the variety of stories and their approaches -- the writing of fiction." -- Robert A. Roripaugh, Western American Literature
"The argument here is that in an important way we did not win the West at all; we lost it. The distinguishing sign of the modern, serious, post- romantic West, literarily, is precisely that recognition, and an attempt to "win" the area truly –to be worthy of it. Blackburn thus sees a certain tragic vision of history as necessary. Literary maturity is suggested when the writing, along with a revised awareness of history evokes certain deeper, positive, and universal values. This artistic fulfillment requires a journey into the interior country. In Blackburn's vision, the West is thus a very large and deep literary territory, much more significant than we may have realized." -- Thomas J. Lyon, Journal of the Southwest
"For The Interior Country Blackburn has selected fiction from important writers from the West: Frank Waters, Walter Van Tilburg Clark, Jean Stafford, William Eastlake, Raymond Carver, Joanne Greenberg, and Wallace Stegner… The future of this region may depend most of all upon its mythical past… Today, when man and earth are threatened by nuclear annihilation, those shared myths become vital for our preservation. Blackburn hopes the rest of the nation will listen to the West, the wisdom of the mythic past and the power of its mythic present. No doomsayer, he insists our salvation resides with our ability to create and preserve stories and myths that reveal our interconnectedness, our common humanity." -- Craig Lesley, Dictionary of Literary Biography Yearbook l985