A SUNRISE BRIGHTER STILL:
THE VISIONARY NOVELS OF FRANK WATERS.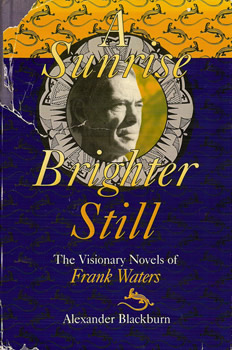 Summary
"Novelist and critic Alexander Blackburn credits Waters's novels such as The Man Who Killed the Deer, Pike's Peak, People of the Valley, and The Woman at Otowi Crossing with creating a worldview that transcends modern materialism and rationalism. Central to Waters's vision, he suggests, is the individual in whom are concentrated the creative powers of the universe. Having attained higher consciousness, the transformed individual then exemplifies the possibilities of which our minds, operating in society, are capable. Thus Waters's vision of our common humanity in the process of creative enlargement engenders a feeling of hope and sanctuary in the modern age. Blackburn finds parallels not only in Eastern mysticism and ancient Mesoamerican wisdom, but also in modern depth psychology, neuroscience, and post-Einsteinian physics." -- Cover/Ohio University Press
"Alexander Blackburn has given us one of those rare achievements that is not only a superior piece of scholarly research and critical analysis, but a real labor of love. He has gone beyond the task of paying long overdue tribute to an American writer of major stature. By exploring the large dimensions of Frank Waters's vision, he has brought into brilliant focus the values underlying that vision -- values that could redeem our culture, rescue our humanity, and ultimately save us from ourselves." -- Gladys Swan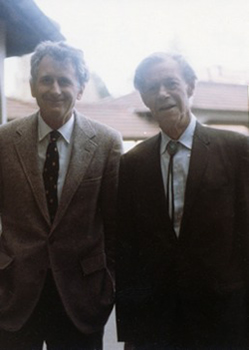 "By tracking Waters's vision to its sources, both ideological and experiential, and by clarifying to the rational mind the coherence of the spiritual, Professor Blackburn has made a signal contribution to American letters." -- Max Westbrook, University of Texas at Austin.
"Waters is now on the cutting edge of just about everything we take seriously in this country: the natural environment, our sociopsychological environment, our political relationship with the past, and our political, ecological, and spiritual relationship with the future. No wonder that someone is finally paying attention… Blackburn does a fine job of placing Waters within a literary context of other 'visionary' writers, particularly Conrad, D.H.Lawrence, Faulkner, and Waters's beloved Melville -- as well as Emerson, Thoreau, and Dinesen." -- James Thomas, editor of Best of the West
"Dr. Blackburn's literary background is impeccable and his analytical skills demonstrably superior. But his study and understanding of Waters's writing go beyond mere credentials and experience in the craft of criticism. Dr. Blackburn is himself a novelist, an editor, a teacher of literature and of creative writing. He is also a man of extraordinary sensitivity and intuition. He brings all those talents into focus to reveal the complexity of Frank Waters's life work." -- Charles L. Adams, Editor, Studies in Frank Waters, Professor of English, University of Nevada, Las Vegas
"A penetrating analysis, combining scholarship and apperception. Blackburn deals originally with Waters's major fiction." -- Thomas J. Lyon, Editor, Western American Literature, Literary History of the American West, and A Frank Waters Reader.
"Blackburn has turned his considerable critical abilities to a body of work that has too little critical attention and too few readers. Moreover, he has clearly spent a good number of years grappling with these novels; one senses that he has read them with the care of a novelist as well as the concerns of the critic. Above all, one senses the passion of Blackburn's conviction that this is a major writer, a writer who has something to say about the underlying truth of life…Clearly our world is in need of a 'redemptive vision.' The novels of Frank Waters do indeed offer 'cosmos, not chaos' -- and in this book Blackburn has, admirably, gotten at the complexity and importance of these books, and this writer." -- Victoria McCabe, High Plains Literary Review
"Blackburn's excellent study shows that Waters's novels focus on cultural intersections…Blackburn illuminates Waters's own chosen forebears ( Emerson, Melville) and his rejection of Eliot's fragmented Modernist wasteland, exposing a gap for a creative mythologist. He shows that Waters's best work is tailored for the classroom's renewed search not only for the new world but also for suitable forebears for the multicultural world to which we are adjusting." --Quay Grigg, Choice
"It is a remarkable achievement because Waters transcends categorization simply as a writer, a teller of tales. He is much more -- and this is what makes Blackburn's job doubly difficult and his result edifying. Blackburn's book succeeds and presciently proclaims Waters's genius... It is an altogether exceptional book deserving the widest audience." -- Robert W. Smith, The Bloomsbury Review
This is a bold and wide ranging book. The great strength of A Sunrise Brighter Still is that it pulls the variety of Waters's work together -- and not just these six novels -- into a conceptual whole, uniting symbol and meaning." -- Joe Gordon, La Tertulia
" Frank Waters is probably the best kept secret in American letters…belongs precisely to the same generation that spawned the great American novel…a contemporary of Faulkner, Hemingway, Wolfe, Steinbeck and other Moderns…Unlike previous treatment of Waters's works, Blackburn's text goes far beyond a mere survey of Waters's novels and is an attempt to celebrate their individual accomplishment. Additionally, Blackburn does not content himself with a tirade against a critical elitism that regards writers of the West as being ipso facto inferior. Rather, this critical analysis of these books makes a convincing positive argument for the placement of Frank Waters in the established general American literary canon, his rightful place, as a writer who accomplished in his own way precisely what his contemporary writers achieved in theirs…. This extraordinary book is a major accomplishment in the field of contemporary literary criticism." --Clay Reynolds, Re Arts and Letters
"It is a work of extraordinary scholarship which makes an excellent case for Waters being the major American novelist of the 20th century, despite his lack of recognition by the effete Eastern literary establishment." -- T.N. Luther, Collecting Taos Authors
"This is an insightful well written study of an American writer whose vision and depth are yet to be fully appreciated. A Sunrise Brighter Still should help to elevate the works of Frank Waters to the level they so richly deserve."--Jack Kean, Colorado Libraries
"Readers who collect Waters' books must add this brilliant, critical study to their collection." --Books of the Southwest