Alexander Blackburn - Author
The Door of the Sad People is one of the most remarkable books I have read ever.
- - Fred Chappell, poet laureate of North Carolina and recipient of Yale University's Bollinger Prize for Poetry.
This major novel offers a vision of hope for the future: citation of the Voice of the Children in the Apple Tree for the International Peacewriting Award.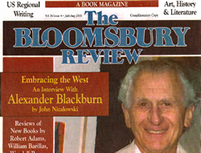 Alexander Blackburn is one of the most important writers in the American West today.
- -The Bloomsbury Review

Every once in a while a good unknown writer gets anointed, the Pulitzer committee issues a prize and sales jump. Still for every winner there are scores of writers who are as good but are virtually unread. To that list of unknown writers, good writers toiling in relative obscurity, add the name of Alexander Blackburn.
- -The Dallas Morning News
Master storyteller Alexander Blackburn!
- - Enchantment
*CLICK ANY BOOK FOR SUMMARY AND COMMENTS
WRITERS' FORUM, Vol. I (1974) through Vol. 21 (1995)
click to view Writers' Forum